The growth of Unified Managed Accounts (UMA) has been well documented, just as the death of Separately Managed Accounts (SMA) has been greatly exaggerated. There continues to be room for both among the many advisory options available at most firms.
But often overlooked in the UMA v SMA fight is what I'll call the staggering growth of Rep-as-PM programs. In fact, as you can see from the table below, these programs now exceed SMA advisory assets and are quickly about to replace mutual fund advisory assets as the largest in the group. ETF advisory programs are relatively new, but they will continue to grow – most likely at the expense of mutual funds.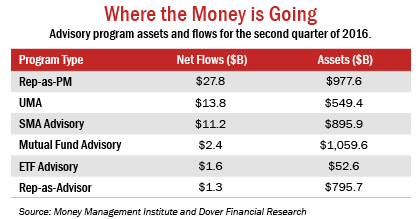 Frankly, this large growth in Rep-as-PM assets scares me. I know many advisors who are true managers – they have research and portfolio management experience, dedicated staff to the process, etc. – and in many cases they add significant value to their clients.
I worry about others, however. As downward pressure continue on fees, how many advisors have made the decision to go this route so that they can keep more of the fee as opposed to "giving" it up to outside managers? How many have taken the time to truly master the art of portfolio management in what is a very difficult investment environment?
I have often argued that it is difficult for advisors (or advisor teams or RIAs) to do many things well. It is hard for example to market, and grow your business, if you are truly acting as a money manager (unless you have hired staff to assist you). Many successful advisors see themselves as relationship managers first, and are happy to delegate the management to outside firms (even if they get a smaller fee).
In addition, let's not forget what happens in bad markets, and when you underperform – because at some point, you will! In the Rep-as-Pm scenario, the client has only person to blame and potentially fire – you. If you use outside managers, or even funds, you can often times convince the client to change managers rather than get rid of you. Finally, what will happen to these programs and advisors under new fiduciary standards?
At the end of the day, advisors would be well served to make sure that whatever advisory programs they use serve clients the best while fitting into their own business model. I hope my concern over the grow of these programs is unfounded; only time will tell.